Sam McKay, Founder & President :
Sam McKay is the Founder and President of Link Natural Resources FZC and has overseen the growth of the company from start up through to the present position as a well-funded, Energy sector investment and development company . Sam holds a Bachelors of Business Administration (BBA) Degree and is scheduled to complete a Master's Degree (MBA) with the University of Wolverhampton UK in 2016.
He has also studied and completed various courses with many world renowned Universities such as Harvard University (Justice) Yale (Constitutional Law) MIT (Entrepeneurship) and the New York Institute of Finance (Various) He spends a good proportion of his time in the Middle East and Africa where he has extensive corporate and government relationships, he has been resident in the Middle East for the past 10 years.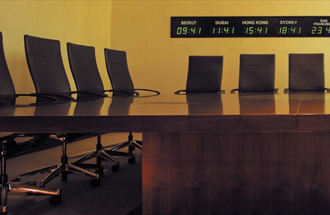 Kenneth Wayne (Ken) Lanham, Vice President-Exploration :
Ken is an Australian with over thirty years experience in oil exploration in more than twenty countries in Africa, the Middle East, Asia and Oceania. Originally a surveyor, he is a specialist in land and marine positioning, as well as other aspects of oil exploration including management, contracts, health and safety and quality control.
He holds a Bachelor of Applied Science (Surveying), a Graduate Diploma in Information Technology (Software) and an International General Certificate in Occupational Health and Safety (NEBOSH). For the last fifteen years he has operated as an independent consultant in oil exploration as well as running his own business. He has lived in the Middle East for the last eight years and has many contacts in the exploration industry world-wide.
Hanad Abdullahi Addou (Non Executive – VP Business Development) :
Hanad was born in Mogadishu in 1962 and raised in the USA where he relocated with his family as an infant. He holds a BSc (Geology) and an MBA from the Pacific Western University, as well as studying Petroleum Engineering at the University of Southern California.
Hanad hails from a very well respected political family, His father was the former Somali ambassador to the USA & Canada (1970-1980, reappointed 1986-1988) , Former Governor of the Somali Central Bank (1968-1970) and thrice presidential runner up for Somalia, including the previous election.
One election in particular was widely disputed internationally, however he accepted the result for the ''good of the Somali people''.
Hanad himself has previously held senior positions in the United Nations for over 14 years and has championed for Humanitarian relief and capacity building in Africa in general and Somalia in particular.